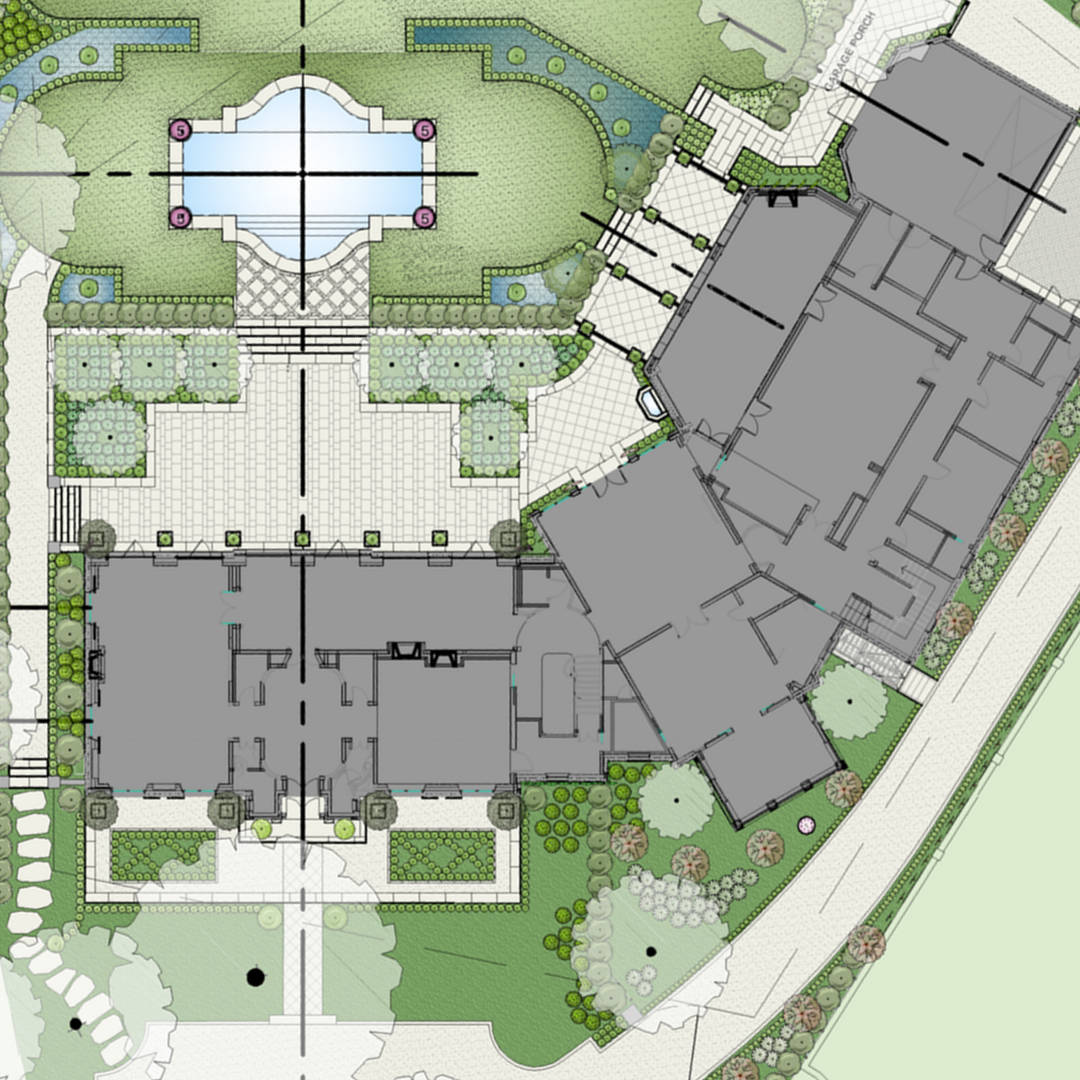 Creativity is just the beginning of developing a great landscape plan.
Each project is carefully crafted, detailed, and assembled to guarantee that the final construction is as beautiful as the thoughts and dreams that laid its foundation.
TYPES OF LANDSCAPE DESIGN SERVICES
While many firms use a 3D model for presentation purposes, our 3D Site Model is a crucial part of our creative and problem solving workflow. 
For this reason,
all projects are designed using a 3D Site Model . By utilizing the visualization and data provided in the 3D Site Model, we are able to provide design clarification to the owner, contractor, consultants and the landscape design team by visualizing grading, retaining walls, steps, finishes, scale, proportion, and volume of the site and its elements. From this model, and through our specialized process and workflow, the Site Plan and its supporting drawings, details, and specifications can all be created.
While getting a thoughtful and thorough design is important, it is just as important to pick the right contractor and make sure their work is delivered as expected. By utilizing your landscape designer to aid in Contract Administration and Contract Management Services  for your project, you can be sure that the right craftsmen are hired for your project and that their work is held to the standards within the landscape plan specifications.
SITE PROCUREMENT SERVICES
Since your landscape designer has a great deal of understanding about the space they have created with you, it is important they are involved in selecting and ordering specialty materials, products, garden ornaments, fixtures, and furniture. Many times this requires coordination with the project contractor, architect and/or interior designer, but it is the best way to insure the correct items are procured to  finish the space and make it live-able. During this phase, the designer will be responsible for overseeing purchasing and procurement, delivery, and installation of the specialty materials, furniture, fixtures, and equipment for your project.
Your garden may already have good bones so we do not need to start from scratch. Whether you want to prepare for a new season, plan an outdoor event, add a new feature, or simply restore the garden back to its prime, make sure you work with one of our designers to do it. Even though you may know exactly what you want, an experienced landscape designer can understand the impact and the options of exactly what you would like to accomplish. The designer's input can add greater value both immediately and for many seasons to come.
RESTORATION AND ENHANCEMENT PLAN
GARDEN MANAGEMENT SPECIFICATION
Have a proactive plan to determine how your garden grows. Your designer can create instructions to provide your garden management team that outline the size and shape of hedges, growth and pruning of shrubs, and general requirements for maintaining the landscape. Depending on the size and complexity of the garden, it is also recommended that either seasonal or annual walkthroughs are held between the designer and garden manager for general comments and observations.
As your landscape and garden grows and matures, things change. Shrubs get larger, trees create more shade, and the landscape environment that you started with has changes. A Garden Evolution Plan creates specification for dealing with the change, while still maintaining the integrity of the original design intent. Whether its a 1, 3, 5, 10, or 20 year plan, having a Garden Evolution Plan keeps you prepared to deal with the ever approaching changes that your garden will experience.
EVOLUTION AND GROWTH PLAN