Outdoor dining and patio season has arrived!! It's finally time to dust off the patio furniture, fire up the grill and invite your family and friends over for some outdoor grilling and dining time!
What makes for the perfect at home outdoor dining experience?
1. Comfortable Furniture
When shopping for outdoor dining furniture, make sure you are picking items that are comfortable to give your guest a place they want to spend hours dining and chatting. If you prefer bench seating over chairs with backs or cushions, you might want to have a nice seating area near by that you could move guest to after you have finish your meal.
2. Adequate airflow / screening
Don't expect guest to want to sit out in the blazing sun without a breeze! If your dining area is stuffy or has direct sunlight, consider adding a pergola, umbrella or outdoor rated fan.
3. A table with a view
Whether you are looking at a nice water feature, statuary, beautiful vegetation or a breath-taking view of nature, make sure guest have something pleasing to look at, it really does makes all of the difference in the world.
Here is my list of the
10 Most Beautiful Outdoor Dining Areas on the web…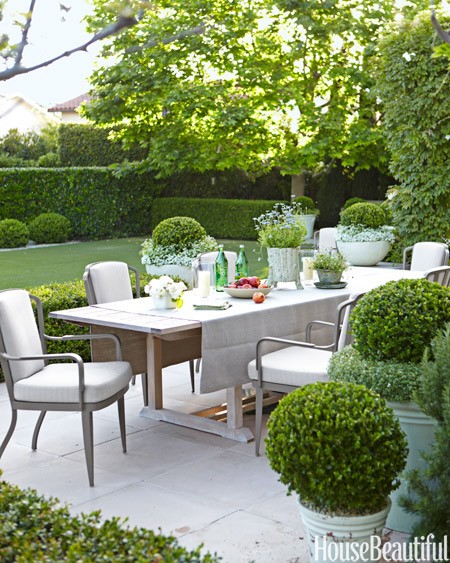 1. This outdoor dining space features comfortable, cushioned chairs and is surrounded by beautiful topiaries and a well-maintained yard.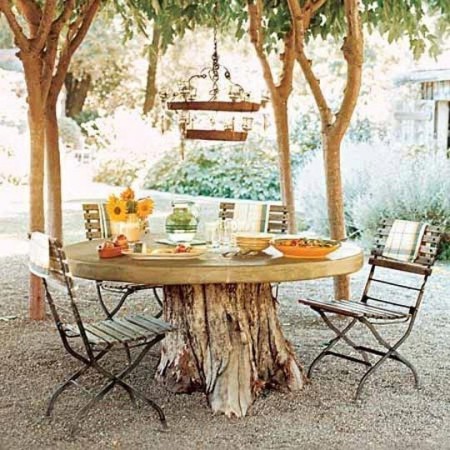 2. I love the creativity of using an old tree stump as a pedestal for this outdoor dining table. Set in the shaded canopy of the surrounding trees, this intimate outdoor dining area has an enchanted feel to it.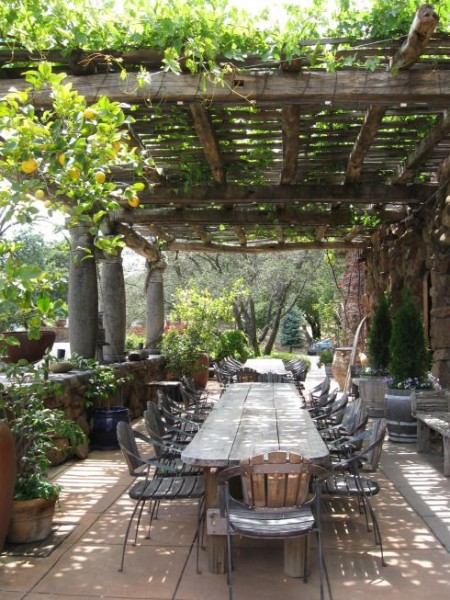 3. Situated under vine covered pergola, this beautifully shaded outdoor dining area looks like a place I would definitely enjoy spending a few hours of my day.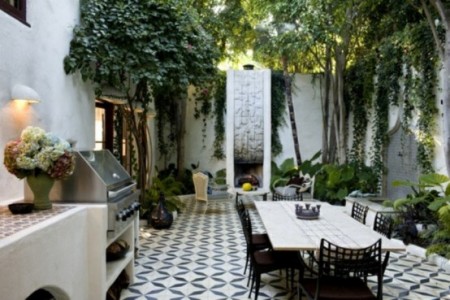 4. This outdoor dining space has it all… beautiful black and white tiled flooring, a focal fire place and seating area as well as a nice dining table and chairs. The added vegetation and white stucco walls adds a cooling effect to the space.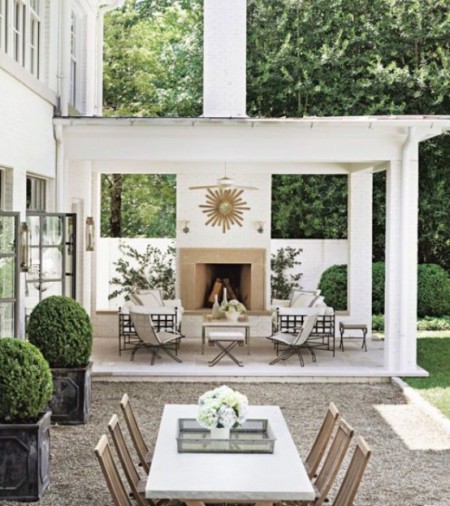 5. I love love love this all white patio. The Lueders limestone table top, the wooden chairs, the lounge area near the fire place… I just can't get enough of this fresh, open and airy look.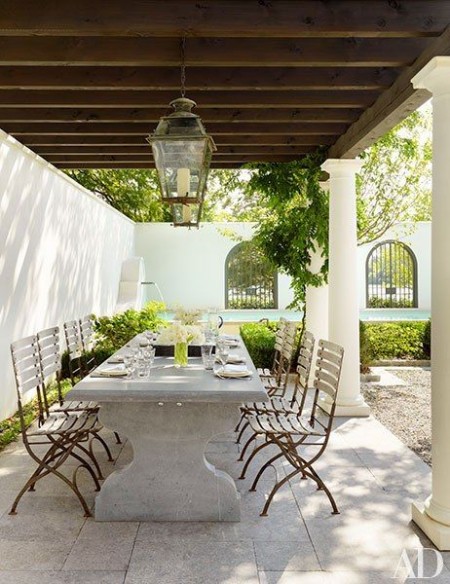 6. Who wouldn't want to spend hours dining with friends out here? An awesome, stone table in the shade surrounded by beautiful plantings, architectural columns and a water feature for sound and visual interest – what more could you ask you for?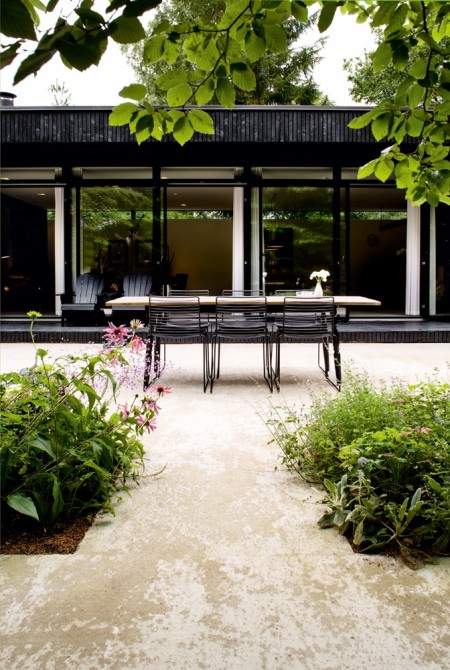 7. There is something so simplistic and stunning about this outdoor dining area. I love the clean lines, the beautiful architecture of the house, the way the colors and materials of the table and chairs coordinates with the house materials and I love that the loose green plantings help to soften all of these sharp edges. This might actually be my personal favorite outdoor dining area!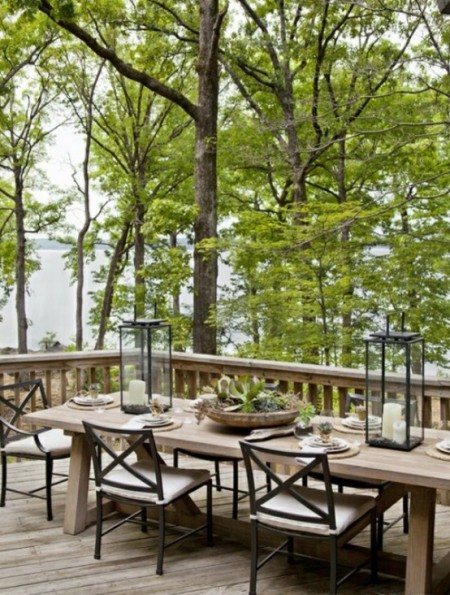 8. This outdoor dining area situated near the lake provides an awesome view as well as comfortable seating. I can just image dining here with a nice breeze coming off the water.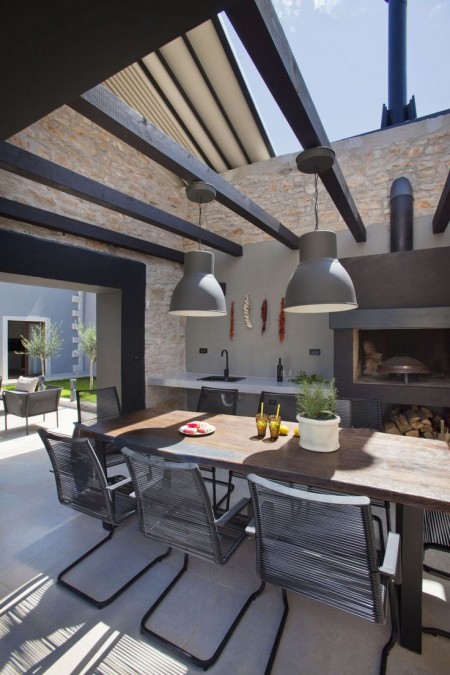 9. Comfortable, modern chairs, rustic wood table, overhead beams and lighting, this outdoor seating area has both comfort and style.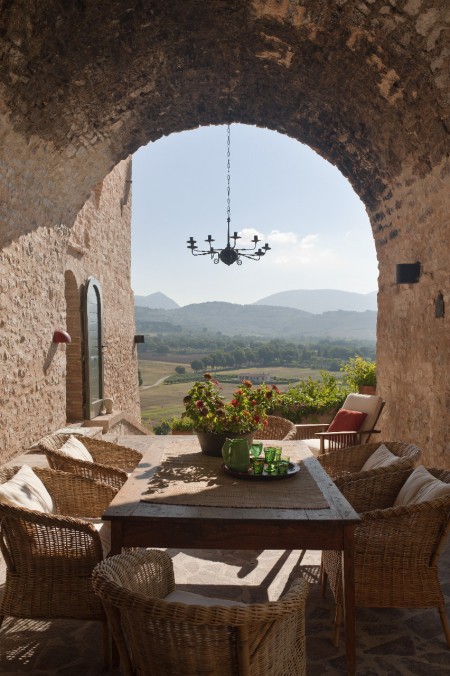 10. This outdoor dining area would make the list based on the spectacular view of Tuscany alone and yet it also has the other two elements I listed (cushioned seating and shade from the sun) to make it the perfect outdoor dining spot.
Image Sources: 1 // 2 // 3 // 4 // 5 // 6 // 7 // 8 // 9 // 10
Which outdoor dining area is your favorite?
[wpdevart_poll id="1″ theme="1″]