Water-wise Landscape Style and Design
Water-wise landscape style and design – can it look great and be sustainable? In the past, terms such as "water-wise" or "xeriscape" were often associated with landscapes that looked either barren or messy. A savvy landscape designer, however, can deliver sustainability and still fit your personal style expectations. Done right, a water-wise landscape never skimps on style. Here we share a few of our pro-designer tips for blending style and sustainability in a water-wise landscape.
USE SPECIMEN PLANTINGS TO CREATE STRUCTURE
The modern design aesthetic with clean, strong lines is popular with many homeowners these days. Fortunately, a few of our favorite water-wise plants blend perfectly with this design style. Agave, yuccas, and many succulent type perennials such as sedum and ornamental grasses fit naturally into the modern landscape. Such plants provide strong structure and clean lines. They often appear like sculptures in a landscape. They can also be used to create a softer natural landscape style when the design is done right.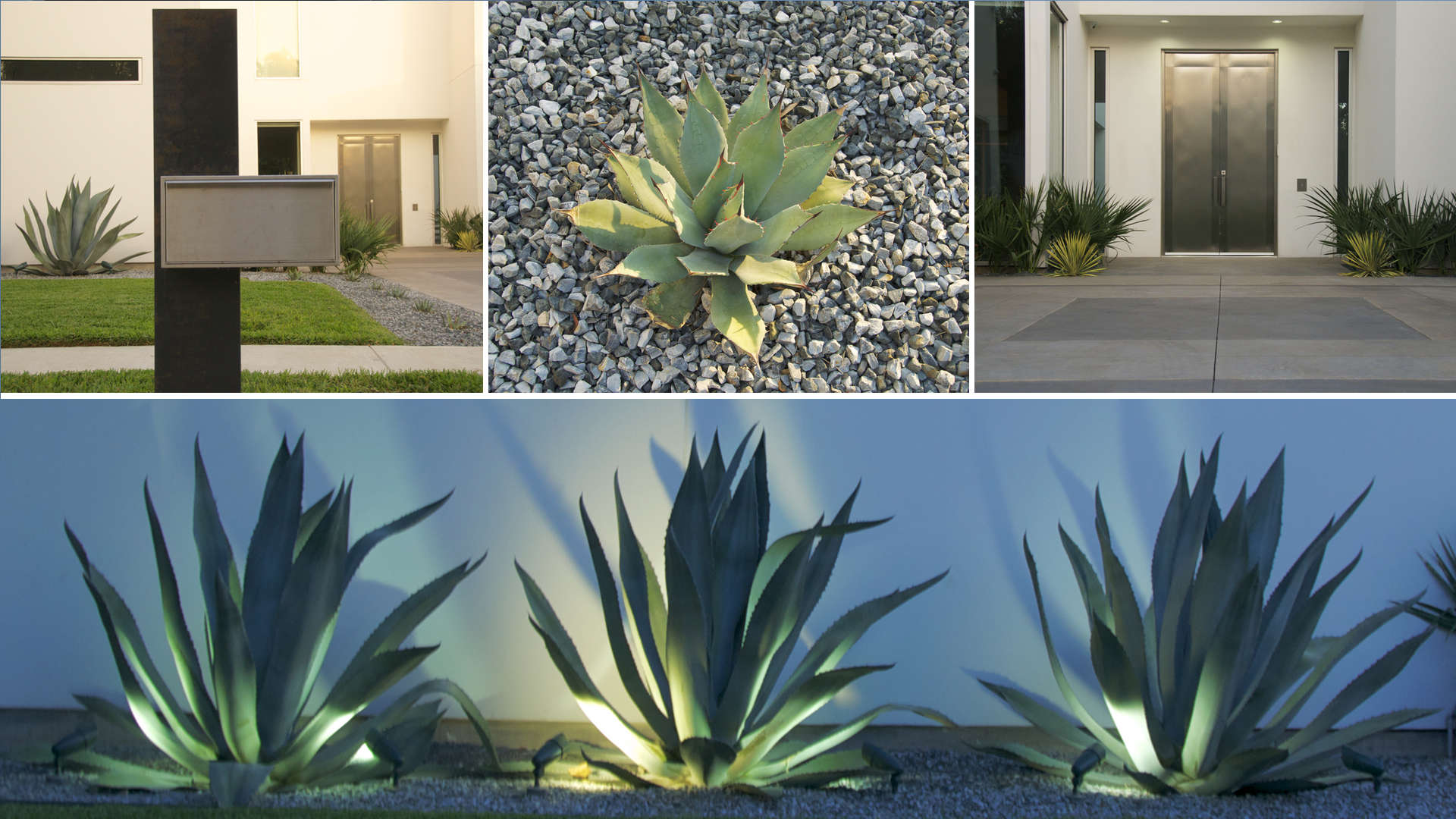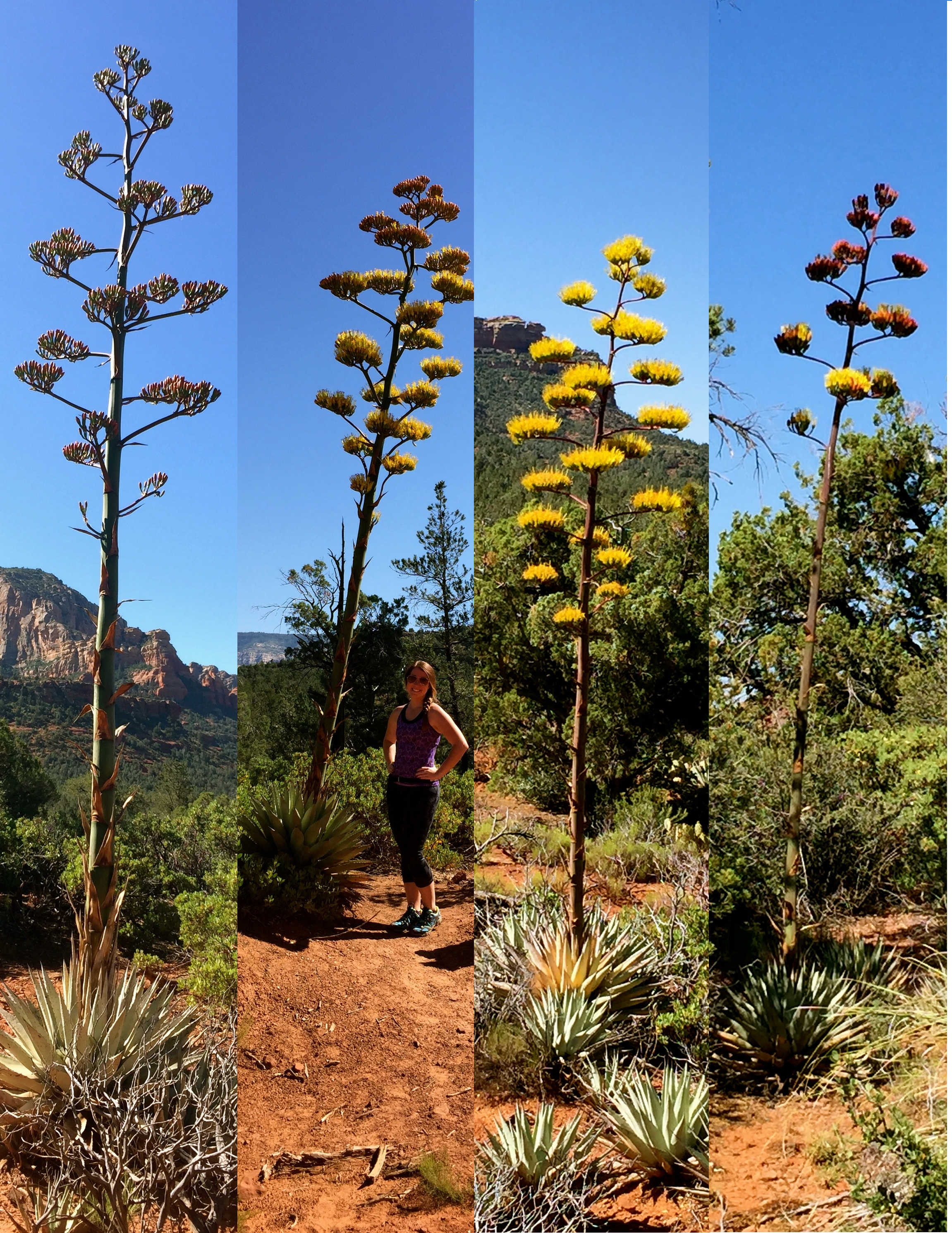 If you're looking for drama, agave blooms certainly deliver. Heather is posing next to one of the agave we found blooming in Sedona, AZ, so you can see just how large these impressive blooms really are.
SOFTEN EDGES WITH GRASS-LIKE PLANTINGS
If more natural softness in your landscape better suits your style, then ornamental grasses are ideal water-wise plants. Grasses offer up ever-changing looks and textures throughout the seasons.  Mexican feather grass, fountain grass, and maiden grass are low water usage plants that add a bit of texture and movement to your landscape.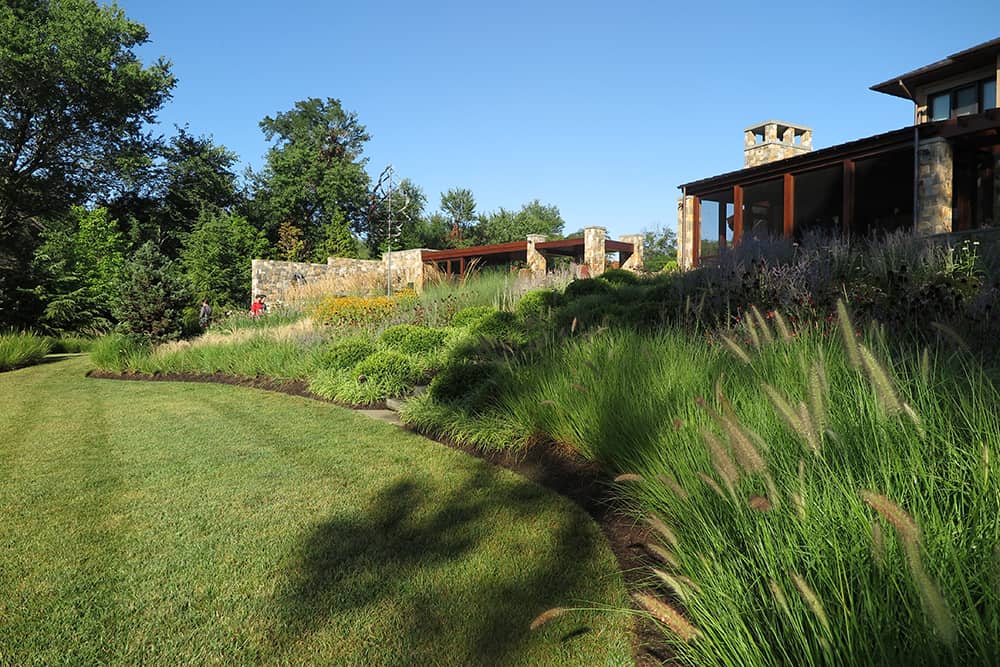 A mixture of perennial fountain grasses, feather grasses, sedges, and other low-maintenance perennials create a soft, yet controlled foundation planting for this rustically modern home.
GATHER GARDEN INSPIRATION WHEN YOU TRAVEL
Travel is a fundamental source of inspiration for us when designing gardens. We love to sample both visual and sustainable elements we find in nature and translate them into water-wise designs.  The rocky landscapes of the southwest offer valuable inspiration for designing sustainable yet stylish rock gardens, also called crevasse gardens. Rock gardens are currently experience a renaissance in the design world, and they are the perfect environment to showcase unique specimen plants, hardscape features, and even sculpture.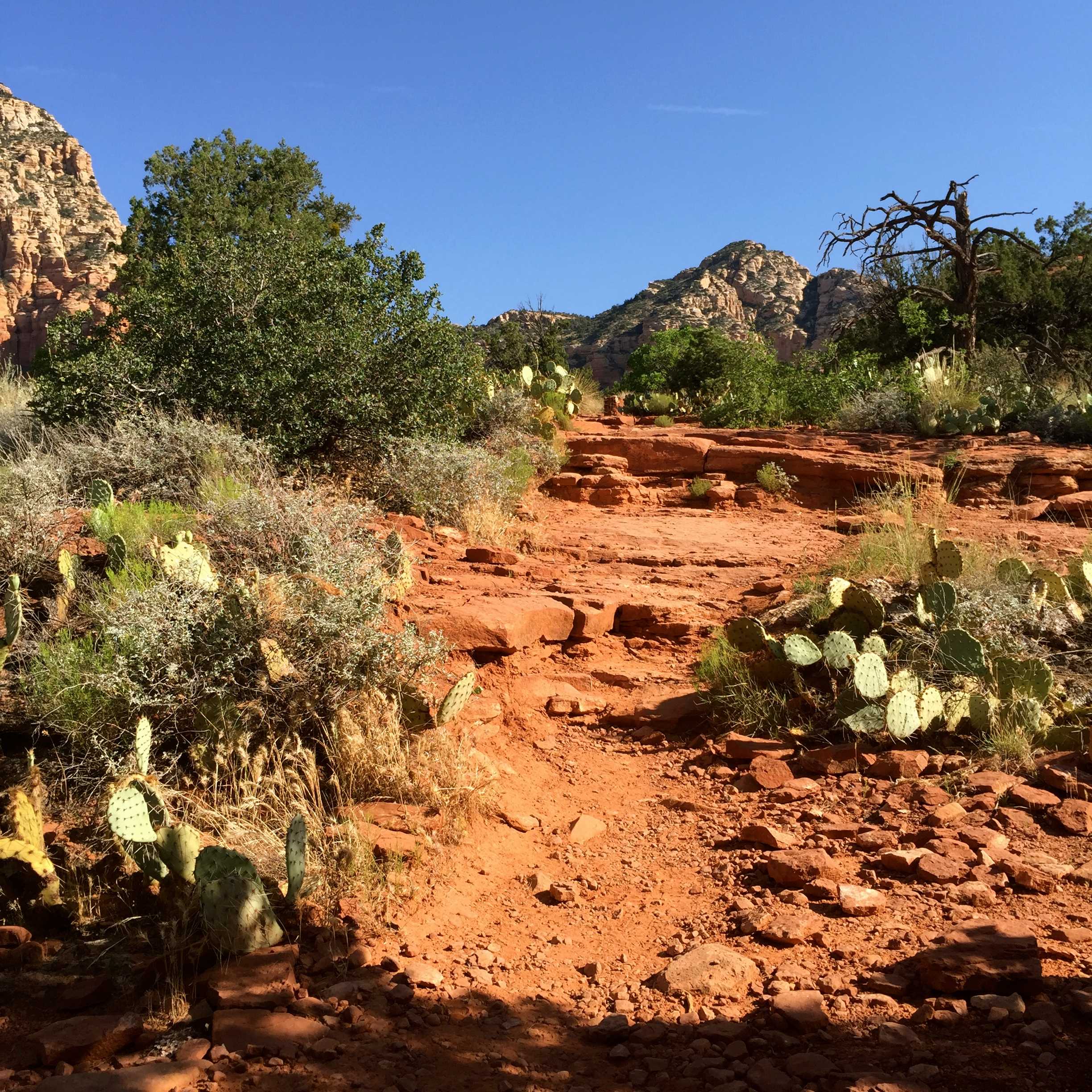 This natural trail we visited in Sedona, Arizona, features sculptural rocks, prickly pear cactus, agave, oak trees. Notice the beautiful complementary color combination of the blue sky and orange rock and sand? Natural scenes like these can provide the inspiration for custom rock work, pathways, and even entire gardens. In fact, this trip to Sedona formed the basis of our inspiration for this design: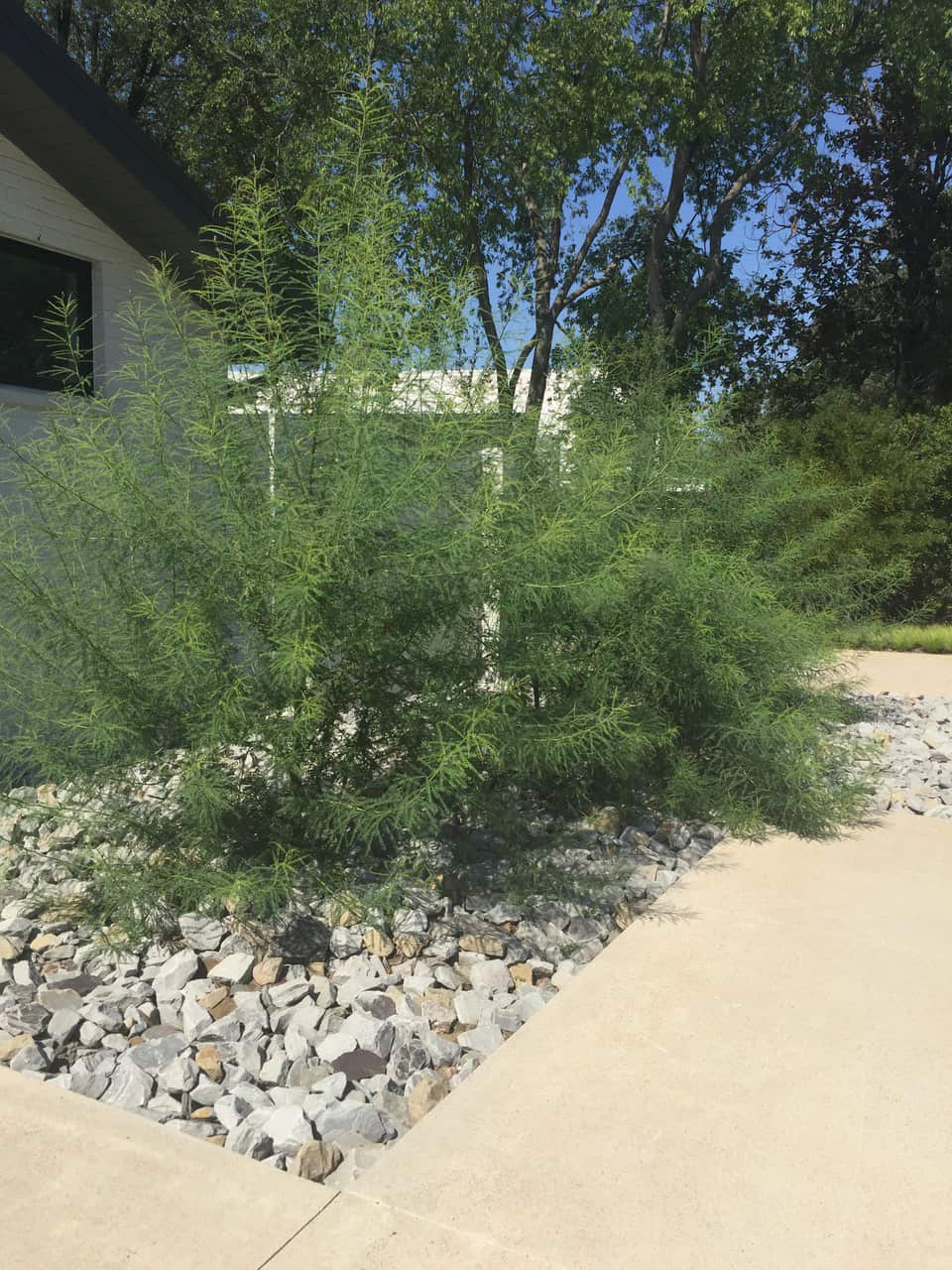 We're always excited by the new presentations of colors and textures we find while exploring new gardens and natural environments. When traveling, be sure to take some notes and photos of natural landscapes -and designed gardens – you love. These photos will help your landscape designer set the right style tone for your outdoor space.
When it comes to water-wise landscape style and design, different plant species will perform differently in different areas of the country. Not all the beautiful drought-tolerant plants we discover on our travels will work in your landscape location. We always work to find plants that will mimic the look you desire, but still thrive in your area's climate.
KNOW BEFORE YOU GROW
Living and landscaping in Texas, or other arid climates, can be tricky; plant choices must be made considering aesthetics, water use, soil conditions, and weather. How much watering or plant care you want to do (or don't) yourself is also an important factor. Extreme hot and dry climates can present a number of challenges when it comes to choosing attractive yet sustainable plants. We can experience long periods without rain during the hottest parts of the year, but then experience heavy downpours and flooding in spring months. Heavy clay soils can compound the problem by holding too much water when its raining, then completely drying out and cracking during periods of drought. Not all drought tolerant plants can tolerate periods of heavy rain or heavy clay soils.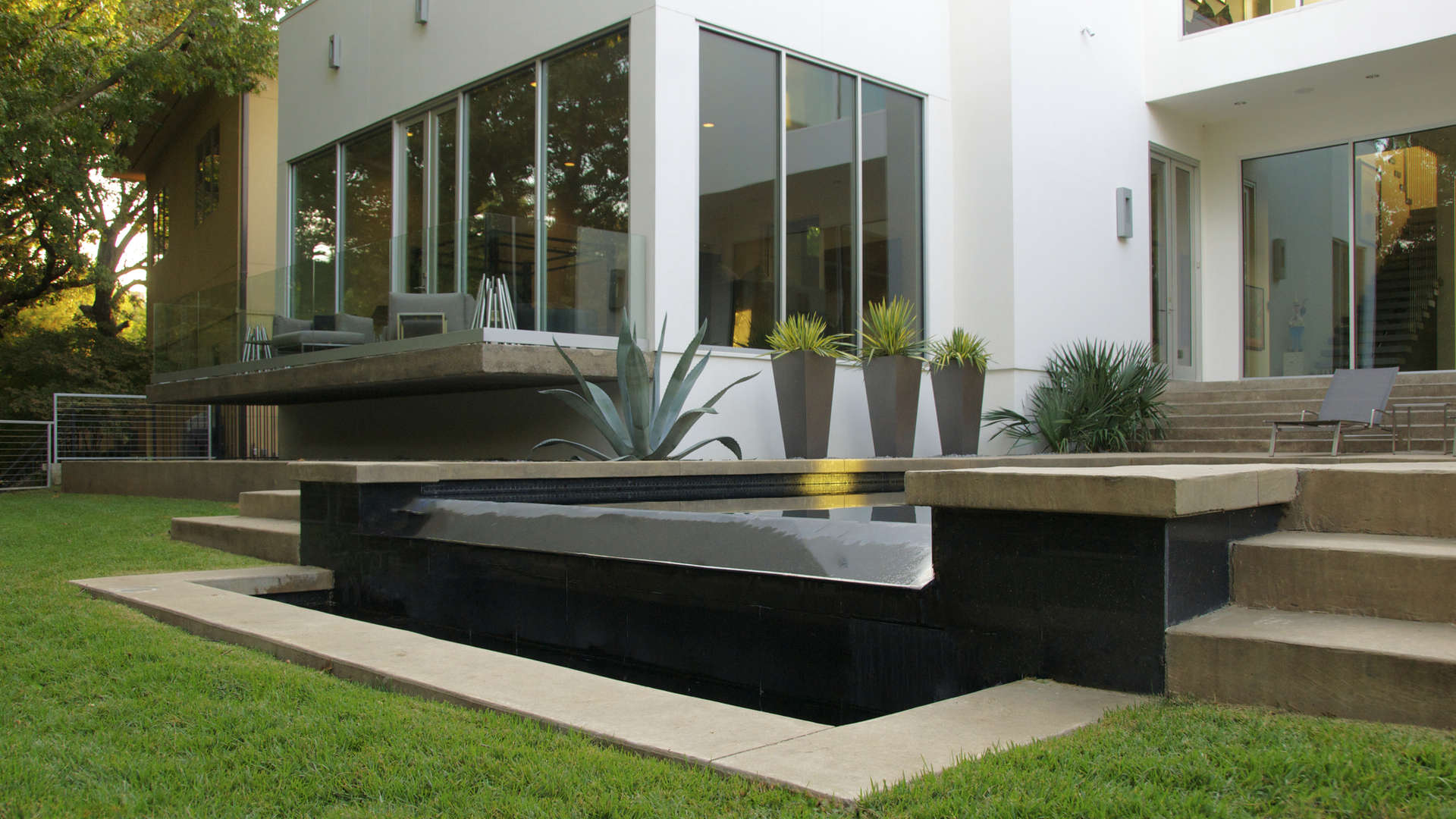 What's our solution? To combat issues with heavy clay soil, we often place water-wise agaves and yuccas in custom designed raised planters or stylish containers. Such planters or containers can be stand-alone, or integrated into the landscape or hardscape. Raised plantings allow for better drainage, which keeps these succulents happy. It's also a stylish way to accent your outdoor living spaces.
WATER-WISE PLANTS THAT SURPRISE
Some water-wise plants will really surprise you. Texas mountain laurel, an evergreen Texas native plant, has lush oval deep leaves that are deceiving; you think the plant needs more water than it really does. Once established, Texas mountain laurel is a tough drought tolerant shrub or small tree. Once you've experienced a flush of its intensely fragrant purple flowers in spring, you'll wonder why you didn't plant this water-wise shrub sooner! If you love lilacs, but have learned they won't thrive in our hot dry climate, Texas mountain laurel is the perfect water-wise substitute.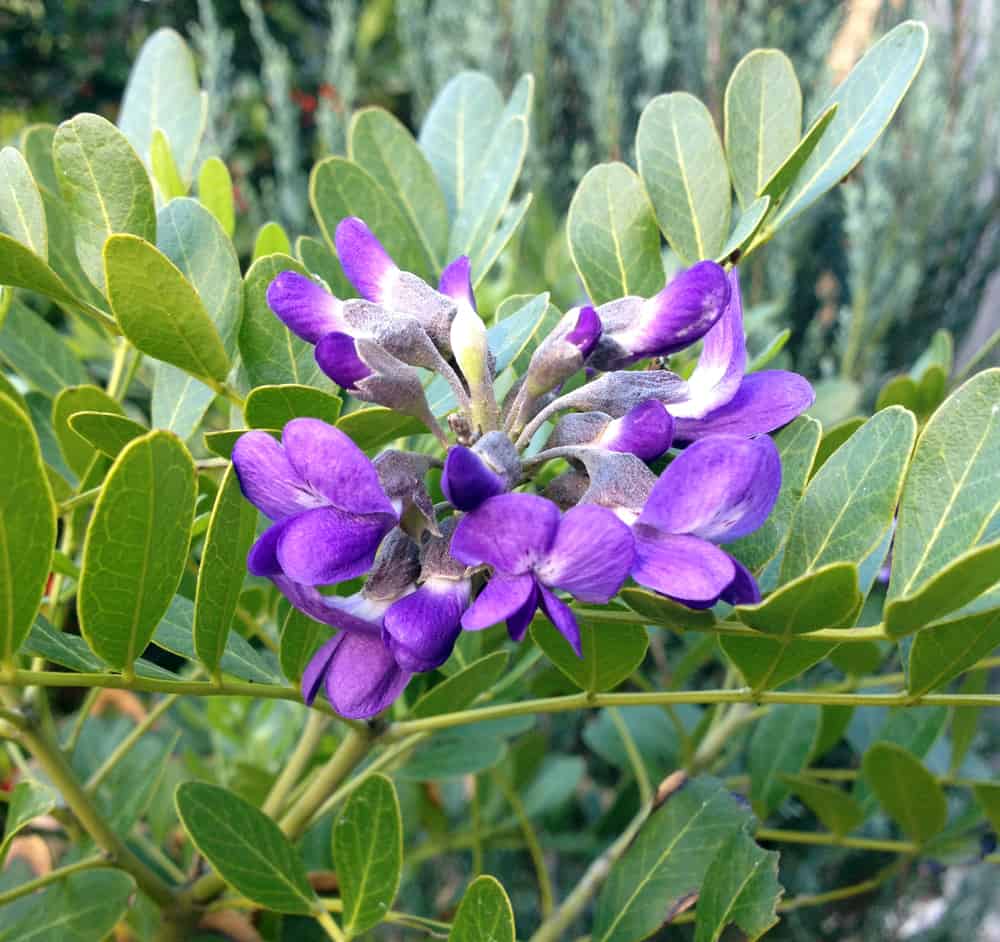 Fragrant purple blooms in spring on a Texas Mountain Laurel shrub.
Other drought tolerant shrubs and perennials do their best work during the toughest part of summer. Texas sage shrubs offer a soft texture, silver foliage, and a bounty of blooms when temperatures are at their hottest. All it takes is an increase in humidity and a bit of rain to send them into a flowering frenzy. When many of your other landscape plants are taking a break during the heat of summer, Texas sage often look their best.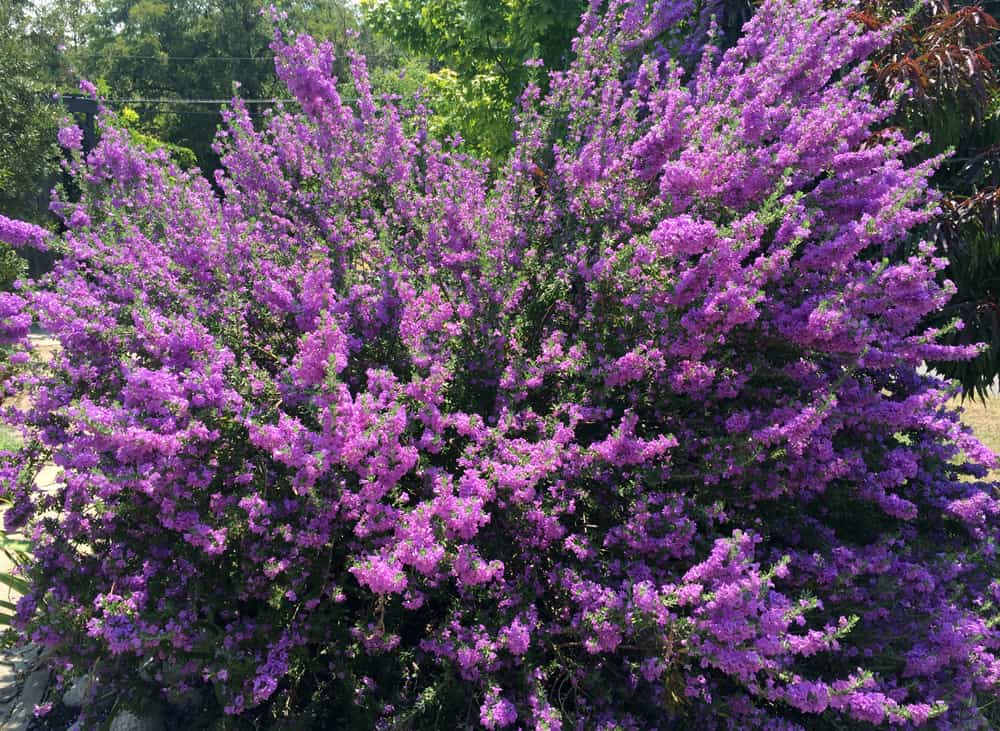 Texas sage 'Rio Bravo' is a cut above many other Texas sage varieties. This variety blooms heavier, and grows to a wider fuller shape.
While we're on the topic of silver foliage, know that  silver foliage, or fuzzy foliage, indicates that the plant is probably a plant that does well with less water. Lamb's Ear and sages are popular choices for adding a soft texture, in the ever so chic grey/silver color palette. Silver or grey foliage plants also balance nicely with darker green and blue-green foliage you find in plants like agave. Perennial herbs such as evergreen rosemary also integrate perfectly into a cottage-style water-wise garden plan.
DON'T SACRIFICE YOUR STYLE
Yes, creating a sustainable water-wise landscape design requires working with the local climate and soils to make the best choices. That said, we don't believe you need to sacrifice your personal style for sustainability. With the right planning, plant choices, and design, you can be gentler on the environment and achieve a landscape style you love.