Dallas Home Tours
Starting a new landscape design, or refreshing an old one? Take a peak at what your neighbors are doing during one of the upcoming Dallas home tours. Several high profile neighborhoods in Dallas are hosting home tours to benefit schools and other organizations in their community. We love home tours because they allow you a behind-the-scenes look at the most current home and landscape design trends. Home tours are a great way to find in-person inspiration for your own projects.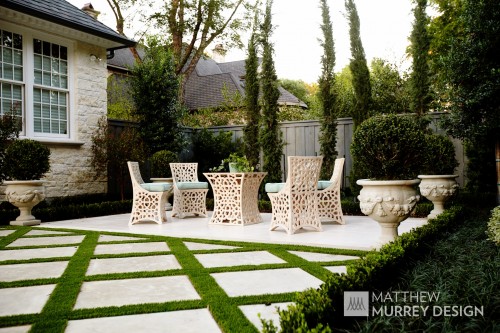 When embarking on a new landscape design, or landscape renovation, there are so many design styles and hardscape decisions to make. It can often be tough to settle on exactly what you want. Working with a skilled landscape architect and designer is, of course, always recommended. But it's also always helpful when you can bring a few specific likes and dislikes to the table. The opportunity to visit other gardens and landscapes opens up the door to fresh inspiration and ideas.
You can take a virtual tour through many of our landscape designs here on our website, such as this Southern Creekside design…or you can head out on the town to check out homes that are being opened up for several Dallas home tours for an in-person peek.
You might have already hit the Park Cities Historic Home Tour or the Turtle Creek Tour of Homes, which are held in early April. If you're seeking more home design and landscape inspiration, you have several more opportunities to get out into the community. Here are a few upcoming Dallas home tours you can still enjoy:
White Rock Home Tour
This year's White Rock Home Tour is presenting an impressive 7 homes for you to tour, 4 Mid-Century homes and 3 Contemporary Modern homes.  The homes and landscapes look amazing and we think this tour is not to be missed. The tour runs Saturday April 21 and Sunday April 22, 2018.  The homes are open 12 pm to 5 pm each day. Entrance is $15 in advance. Discount tickets are available for purchase online and in person at goodfriend package store, White Rock Coffee and Green Spot Market until Friday, April 20.
Homes on this tour tend to be medium to large in size with corresponding landscapes. You'll typically find more modern styles of landscapes on this tour with a low-maintenance focus.
Most importantly, the tour benefits Hexter Elementary School. The White Rock Home Tour, now in its 12th year, was conceived by a small group of Hexter Elementary School parents who were interested in mid-century architecture. The home tour has been a successful way to support the neighborhood school in Old Lake Highlands.
 Hollywood/Santa Monica Home Tour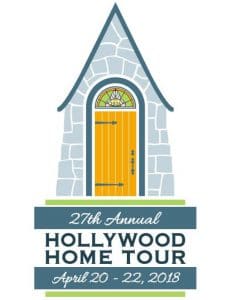 If you want to double up this coming weekend, you can hit the Hollywood/Santa Monica Home Tour of historic homes the weekend of April 20 – 22: Friday night between 6:00 pm and 7:00 pm, or Saturday and Sunday between 12:00 pm and 5:00 pm.
This tour is a good contrast to the White Rock Home Tour. The historic homes and landscapes in these neighborhoods are on the smaller side. If you're looking for inspiration and ideas for a smaller urban landscape, this is the Dallas home tour for you.
Home tour tickets can be bought online for $15 until Thursday April 19. Bring your receipt to the tour to pick up your tickets. Buy your home tour tickets at Curiosities Antiques starting April 3rd at 2025 Abrams Pkwy, Dallas, TX 75214. On the weekend of the Home Tour, purchase tickets at the homes for $20 or at Curiosities for $15.
This Dallas home tour is a community event supporting local schools:  Lumin Lindsley Park Community School; Eduardo Mata Elementary School; and J.L. Long Middle School. They also hold their annual Art in the Park event at Lindsley Park, in conjunction with the home tour, to benefit the same schools.
Swiss Avenue Mother's Day Home Tour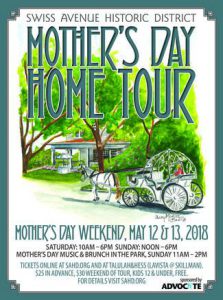 This is one of Dallas' most time-honored Springtime events. You can join the Swiss Avenue Home Tour, in it's 45th year, on Mother's Day weekend, Saturday, and Sunday, May 12th and 13th. Saturday 10am-6pm, Sunday NOON-6pm, Mother's Day Brunch on Sunday 11am-2pm.
The historic homes and landscapes on this tour will be in the medium to large size with a more traditional and romantic flair. Look for design styles popular in the early 20th Century.
Featured will be a romantic Spanish Revival, a massive Progressive Style Prairie Foursquare, a French Normandy manor house, a stately Colonial Georgian, an elegant Italianate Revival, a classic American Craftsman, and a charming pair of side-by-side Arts & Crafts Bungalows.
Home Tour Tickets: $25 in advance and $30 the weekend of the event. Children 12 years of age or younger are admitted FREE. Purchase tickets at the link above or at Talulah & HESS at Skillman-Live Oak Shopping Center and; Tom Thumb Stores at Mockingbird & Abrams, Gaston Avenue near Grand, Villanova Drive in Preston Center, Snyder Plaza, Oak Lawn Avenue, and East Lovers Lane at Matilda.
If you make out out to any or all of these Dallas home tours, be sure to take note of design styles, design elements, hardscape materials, and other features that you really love. Then, give us a call to see how we can help you create a landscape design that complements your lifestyle.