"That plant is too traditional, I want a contemporary landscape."…
This is one of the most common phrases I encounter when dealing with clients seeking a contemporary landscape. Too often, in the conceptual phase* of design, the client focuses on individual plants (and the prejudices they carry for those plants) rather than the overall style and concept of the design.
Below are some examples of the most common plants that get a bad rap for being either "traditional" or "contemporary," but actually work well in both types of landscape. As with these plants, most plants can be used in both contemporary and traditional design. Landscape design is less about what you use, and more about how you use it.
Pleached trees
Commonly thought of as a traditional english garden element, pleaching has increasingly become a major trend among contemporary landscape designers in recent years. Pleaching, is the art of tightly pruning trees to give them a manicured, strong form. Some of the most common pleached trees are hornbeams and ornamental pear trees. Pleached trees are best used in the landscape as an accent, for articulation, or as a tall hedge allée tree.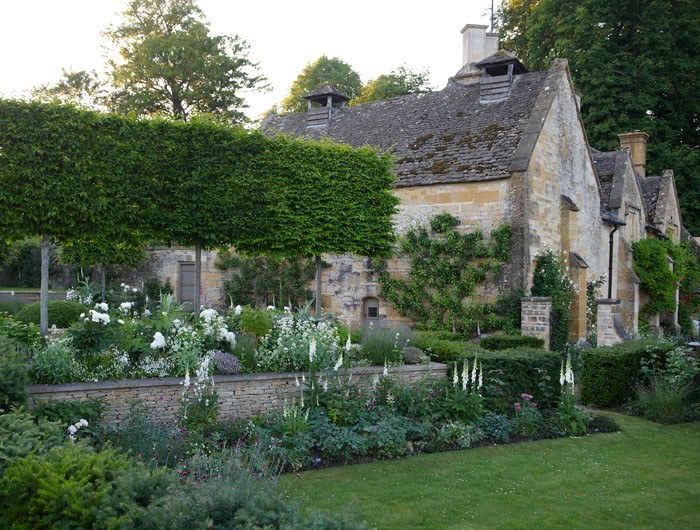 World famous garden designer Jinny Blom uses pleached hornbeams in this traditional English landscape to separate the different garden areas. She combines these pleached trees with loose plantings and stacked stone walls to provide variety and definition.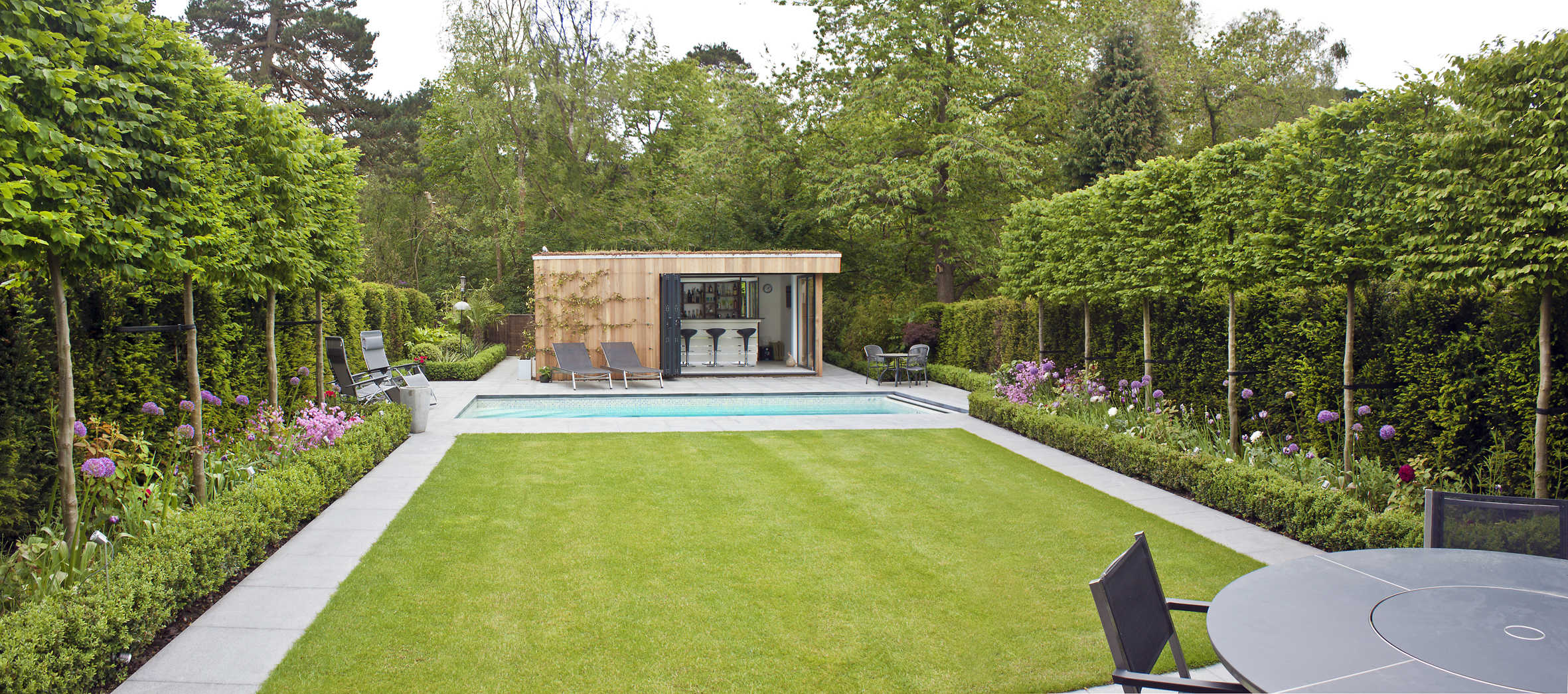 Landscape architecture firm, Janine Pattison Studios, uses pleached hornbeams in straight rows to line both sides of this property. JPS combines these pleached hornbeams with a row of tightly manicured boxwoods planted underneath to provide structure and clean lines for this modern house and cabana.
Evergreen Hedges
Evergreens hedges are a great way to provide structure and privacy to any style of garden. Some of the most common evergreen hedges include Magnolias, Japanese Yews, and various Hollies. Depending on the shape and use of the hedge, these can be a great element for both traditional and contemporary landscapes.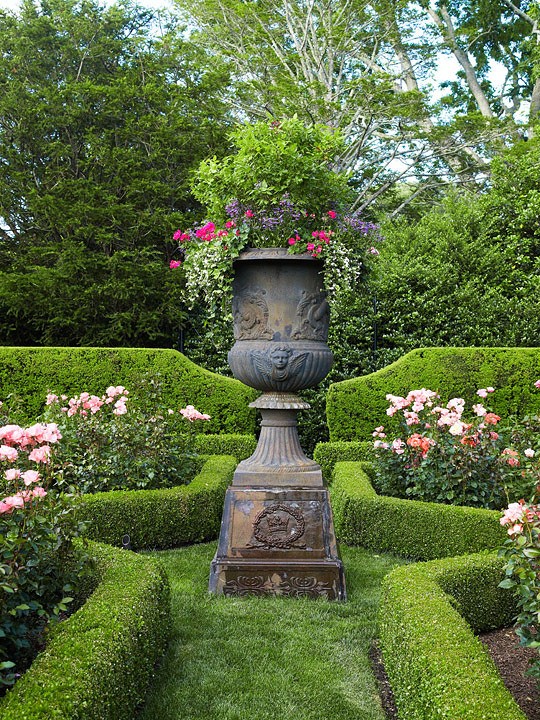 This tall hedge with cut corners, combined with a lower boxwood hedge and roses, creates an elegant multilayered effect typical of a traditional English garden. The focal point of the traditional European metal urn further enhances this classic English garden look and feel.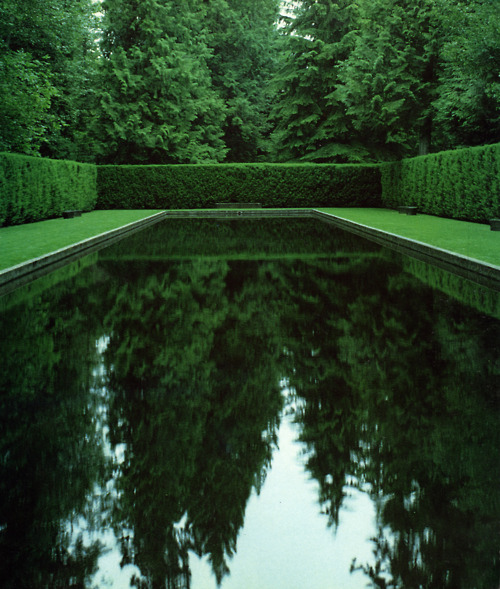 A simple crisp and clean-lined hedge like the one pictured above creates a very dramatic and modern effect when combined with this sleek dark bottom reflecting pond.
Cactus, Agave and other Succulents
The use of the Agave, Cactus and other Succulents is becoming more and more popular in today's landscape culture by both traditionalist and contemporary enthusiast alike. These plants provide interesting textures, colors, and foliage that are not typically seen in woody plants.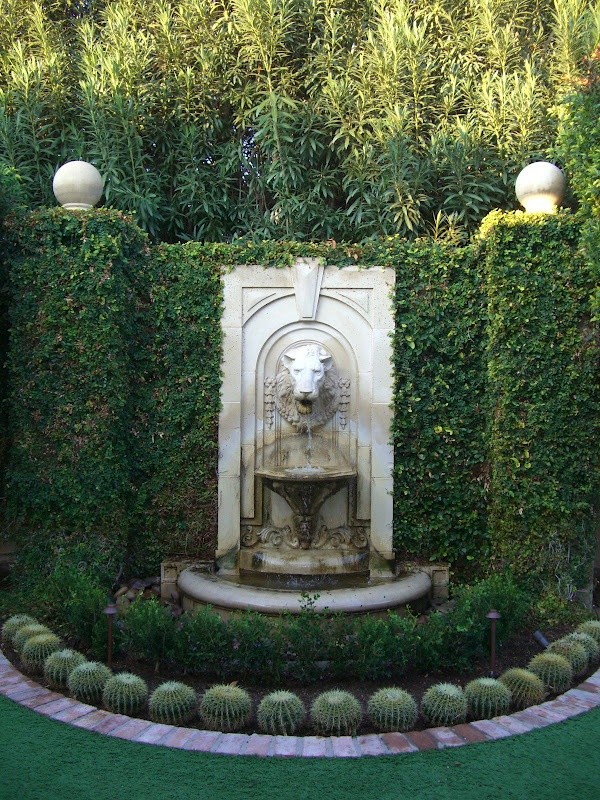 This garden features a traditional stone fountain with lion's head and curved bed brick edging with plantings of boxwood and barrel cactus. The fountain and shape of the beds are what define its style, the plantings are what make it unique and interesting.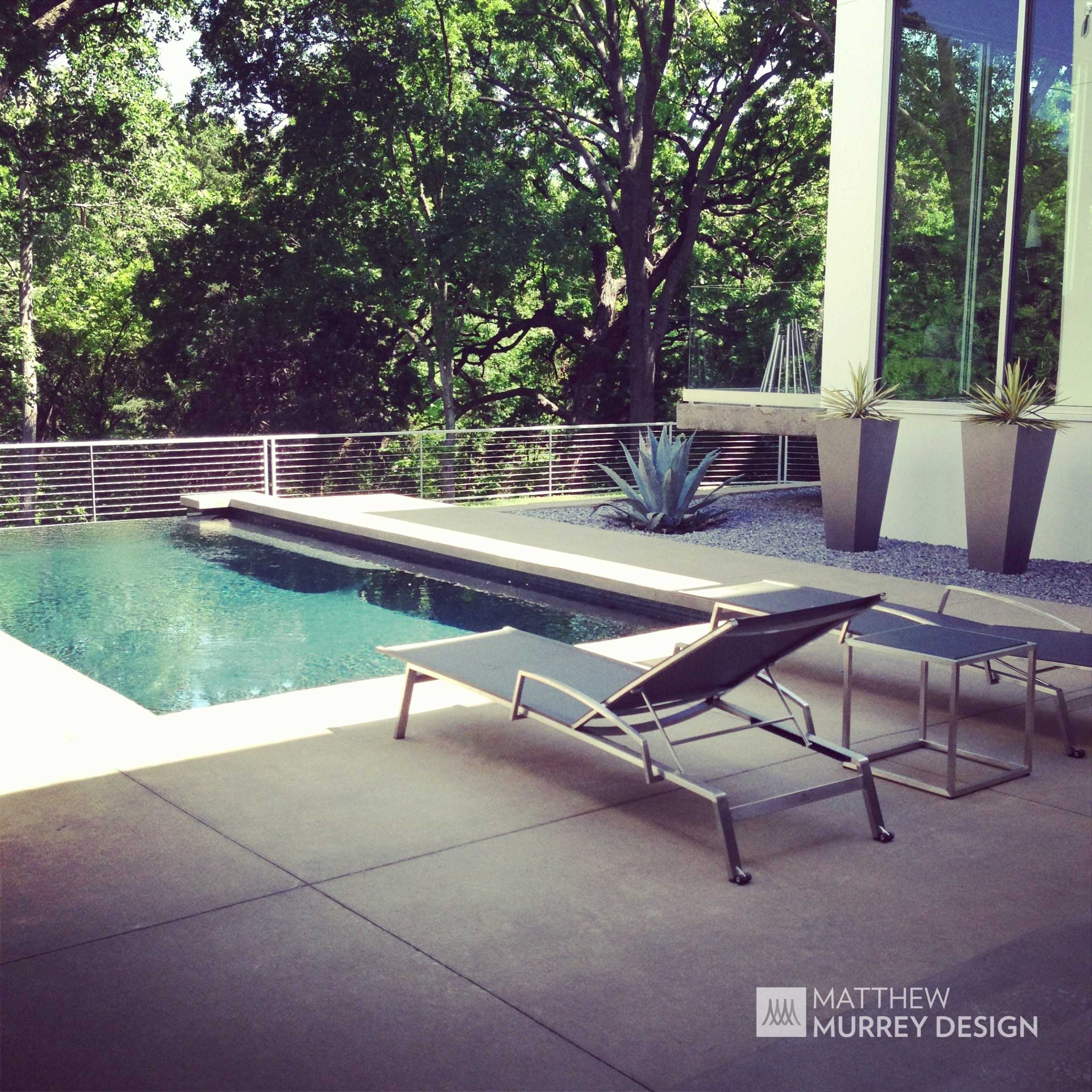 In the photo above, Matthew Murrey Design uses a minimalist approach in this landscape to create a very contemporary look. A selection of monochromatic grays in the paving and pottery with the strategic placement of agaves and yuccas keep this simple palette anything but boring.
Palm Trees
With over 2,500 different species, the palm tree can be a very versatile plant. Though the palm tree often brings to mind thoughts of white sanded beaches, the palm can be a great addition to a traditional or contemporary landscape when designed correctly.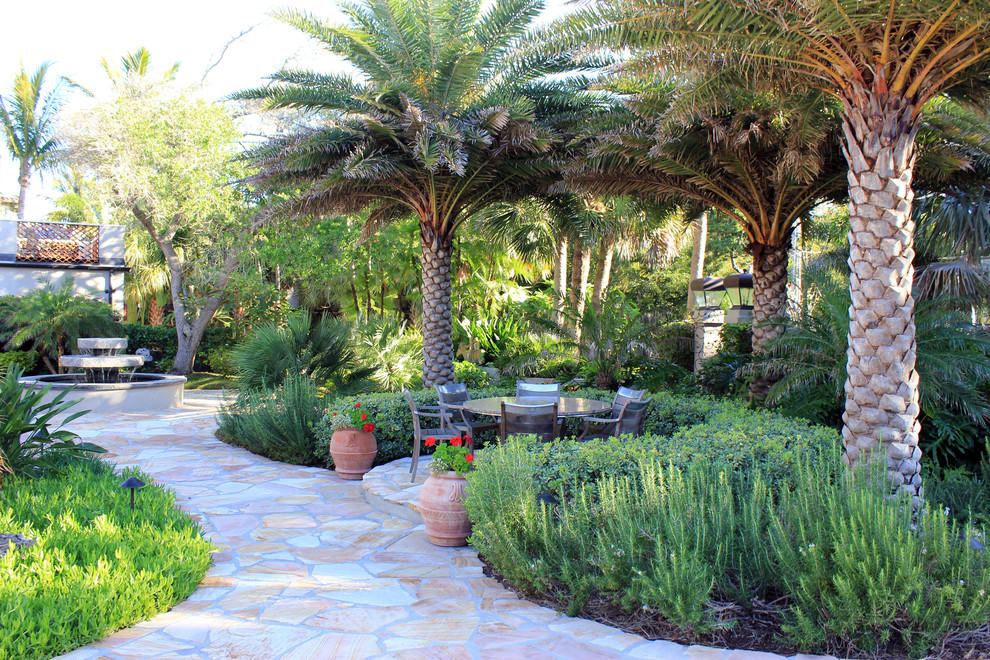 Landscape architecture firm Michael A. Gilkey uses flagstone and lush planting with large palms to create a lovely landscape. The combination of the pottery and freeform paving with a fountain and outdoor dining area give these tropical plantings a very traditional and classic look and feel.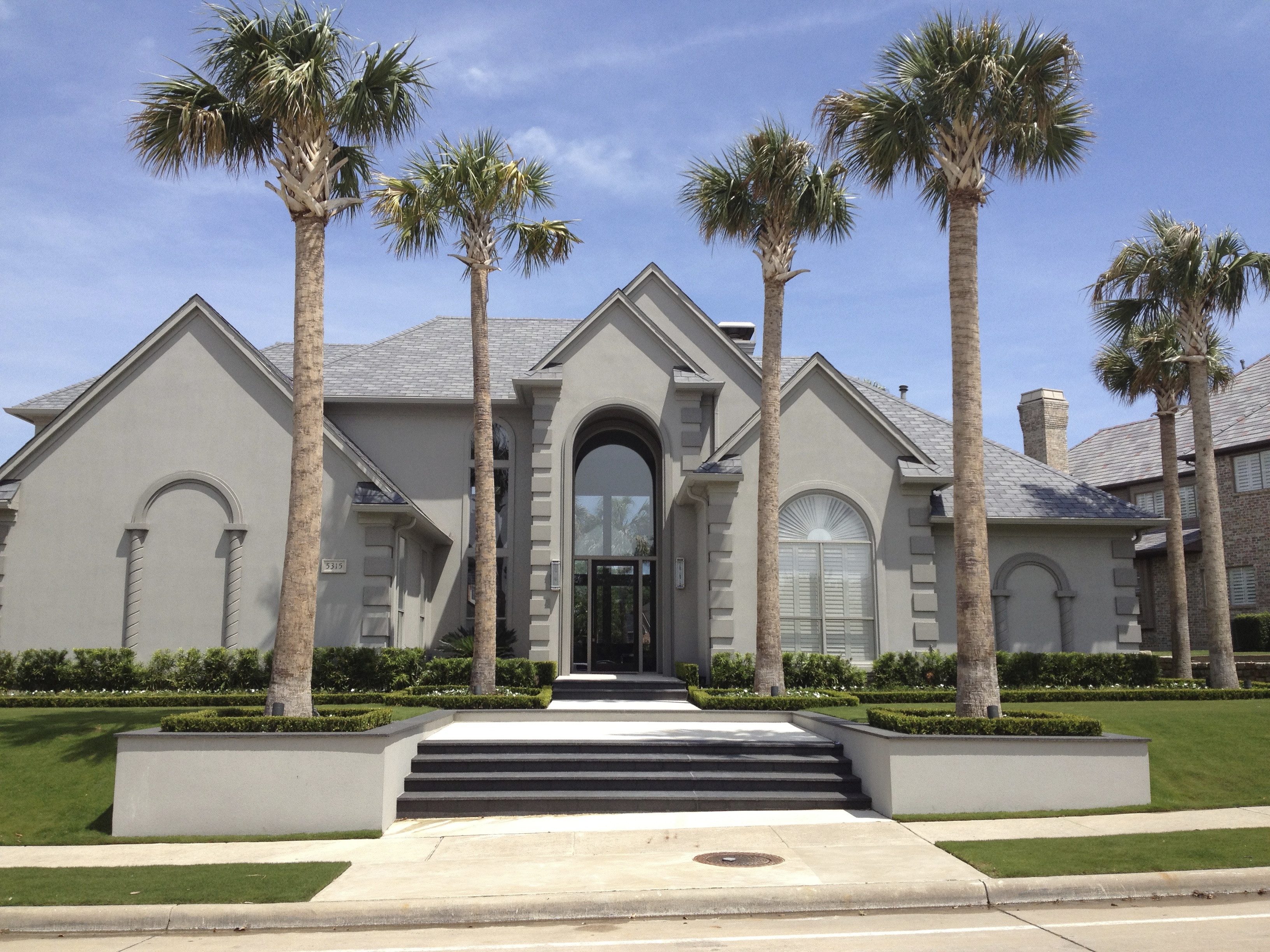 For this house, Matthew Murrey Design chose a simple color palette with angular clean lines to keep this front landscape as contemporary as the architecture of the house.
Boxwood
The boxwood, known as "Man's Oldest Garden Ornamental" is another plant commonly associated with a traditional landscape.  Boxwoods can be used as a hedge, massing or shaped into a topiary form to act as an accent or focal point. When shaped and trimmed correctly, boxwoods are fitting for a variety of styles.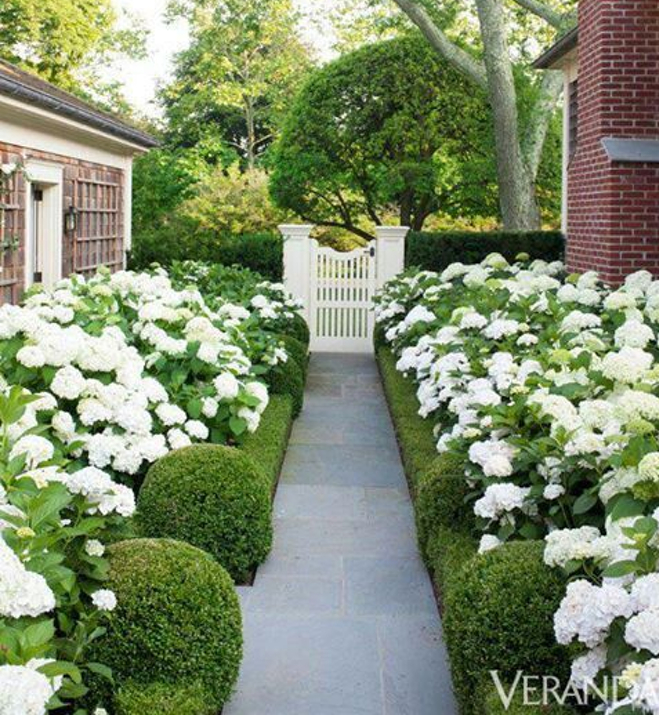 Featured in Veranda magazine, this combination of boxwoods with loose flowering hydrangeas, bluestone walkway and white picket fence create a very classic and beautiful walkway.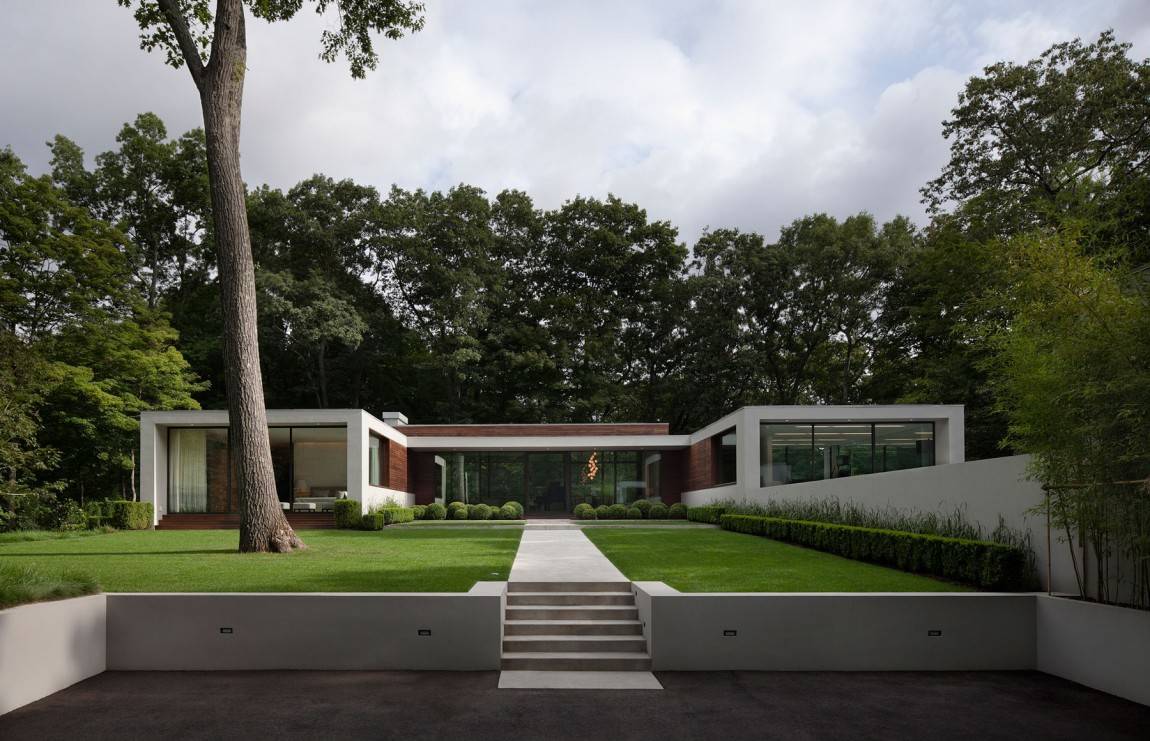 Landscape Architects Alec Gunn and Heather Morgan provide a great example for how to use a low boxwood hedge in a very modern way on this contemporary home designed by Specht Harpman.
What are some other plants you typically think of as only fitting one particular style? With a little research I am willing to bet I could change our perspective!
Did you notice that some of the language above refers to modern design while other refer to contemporary design? Do you know the difference? Click here for a better understanding of Modern vs. Contemporary.